The Role Simulation makes up part of the end-point assessment. The ATT designs the Role Simulation to assess apprentices in a consistent way, regardless of job role or specialism. 
Here is what to expect from the ATT:
1. Before the Role Simulation takes place, we will supply you with pre-seen information about a fictitious organisation. The materials will contain basic information like emails, memos or other business communications on the organisation's plans, issues or challenges faced, excerpts from a set of the organisation's most recent accounts.
2. During the Role Simulation, apprentices will be working in a controlled environment at a venue approved by the ATT, under invigilated and timed conditions. Your Apprentices will be presented with additional information about the fictitious organisation and will be asked to complete a series of short tasks. Each of the tasks will assess the application of knowledge from a minimum of three knowledge areas detailed in the Standard to ensure breadth of assessment, together with a minimum of three Skills and/or Behaviour areas set out in the Standard. The Role Simulation is provided in written format.
The tasks will be a mix of written and objective tests, although they will be designed in such a way to ensure the Apprentice fully anlayses both the pre-seen information and additional information presented on the day.
3. After the Role Simulation, the ATT will mark it to ensure independence, consistency, reliable and accurate judgments.
The grading of the Role Simulation will be 'Pass' or 'Fail' and the pass mark will be set at 70% to reflect the fact that it is the end of the Apprenticeship and to encourage Apprentices to demonstrate performance to a high standard.
For those Apprentices that achieve a mark of 90% or higher in the Role Simulation, they will be awarded the grade 'Distinction' in addition to 'Pass'. This additional grade is designed to recognise and reward the achievement of the highest performing Apprentices in the Role Simulation.
Summary of roles and responsibilities
Summary of the Role Simulation assessment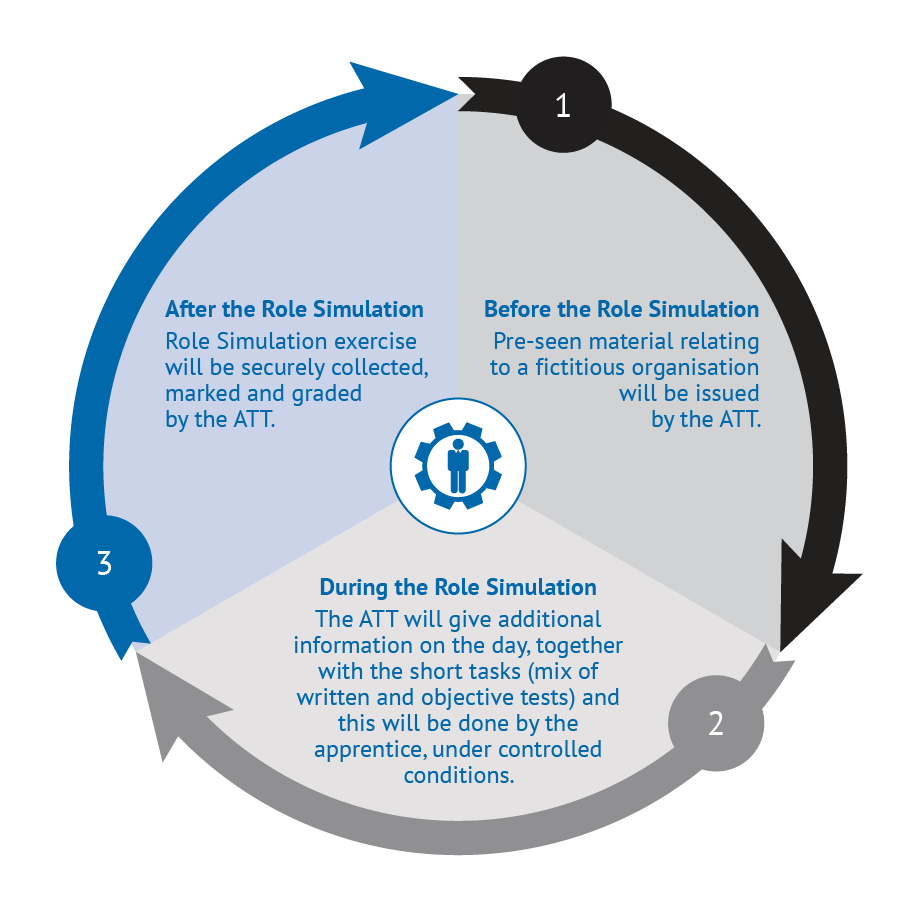 How we can get you ready for the end-point assessment?
We aim to provide:
Support to help employers and providers ensure apprentices move on to the end-point assessment only when ready to minimise the risk of disappointment
A resource to show you what your apprentices should expect to see and do during the end-point assessment
Mock Role Simulation assessment tasks and materials for apprentices to practise with
We will offer the Role Simulation at various locations around England and have our assessments set and marked by experienced industry specialists.
Further guidance? 
Please find the ATT's further guidance on Role Simulation here